While we were in Surigao, we met a baby in Brgy. Zaragoza who have cataract. According to the mother, the baby had cataract since birth. Due to their life situation they can barely support the basic needs; health of the child is not addressed.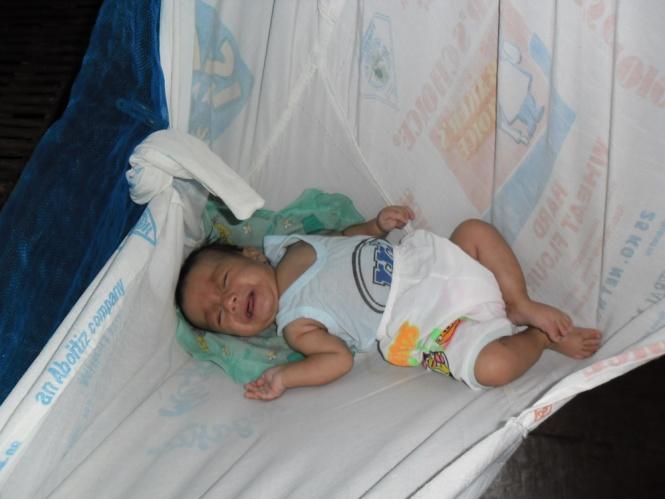 Above photo: The child with cataract. The child is growing uncomfortably due to his condition.
We also met a grandmother living alone in her house after her husband died because of famine. Grandmother's leg is amputated because of diabetes.
Future plans:
Standby fund for the relief operation as the rehabilitation is still on-going.
Continued coordination with our brothers the local congregations.
Coordination with other NGO's for the rehabilitation of houses and schools
Funding allocations:
Springboard Foundation 100,000.00
ALPS 100,000.00
Ap. Desoloc 50,000.00
Bh. Deneiga 20,000.00
D.Ev. Freddie Nuyad 20,000.00
Sr. Leneth Nalam 20,000.00
Sr. Alona and Family 10,000.00
NACSEA RELIEF 50,929.50
Total 370,929.50
Transportation and logistics
where donated by NAC
Philippines
Travel expenses of Mabelle
Bagtas to Surigao 8,319.00
Charges for money transfer 300.00
Bank Charges to DBP 100.00
8,719.00
The above amounts were partial because relief
operation and rehabilitation is still ongoing.
We give thanks to our active partners:
DA's Message
With little means much can be accomplished, provided passion
to do good, and love for souls and the desire to serve the least
of the Lord's are our driving power.
I am humbly proud and enormously thankful that we have a
team who live up to the Filipino saying:
"KASAMBUHAY, HABAMBUHAY"
Companion in Life, for Life. Thank you to all our friends and
volunteers from all walk of life and different religions to unite
with us in our efforts to reach out beyond our pastoral mission
of the church.
Thank you and let us carry on, joining hands together and
"accomplish much with little"