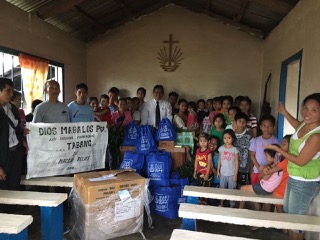 Tulong means in Filipino as much as "aid" and refers to 'Tumulong ka sa mga nangangailangan' 'helping those in need" Our Mabelle Bagtas who led the relief operation in Bicol (Typhoon Nina, see our post 'a scary Christmas) reports as follows. We thank all donors who will support this action.
NACSEA RELIEF REPORT : "OPERATION TULONG" IN BICOL & QUEZON DUE "TYPHOON NINA"
As typhoon "Nock-Ten" intensifies on Christmas evening of 25th December 2016, strong winds have caused damage from medium to high-risk structures, uprooted trees, toppled down electric posts, and destroyed crops to most communities in Region V. (Bicol) NACSEA Relief, immediately deployed its staff to coordinate and prepositions relief goods for distribution to affected families and in the areas of NAC congregations in Naga, Goa, Libmanan, Calabanga, and Albay.. "Operation tulong" proceeded … climbing mountains, crossing rivers, and trekking dirt roads for more than two-hours to help the village in Catanauan, Quezon. Hauling relief goods in the area was a big challenge thus farm animals were positioned to carry them and reach the villagers. A total of 159-families or 954 individuals received family food packs including used clothing donated by the Uster congregation in Switzerland and local members of NAC Makati congregation. Beneficiaries were all very happy and grateful to receive the family food packs including clothing and they have also commended NACSEA Relief as being the first one to give assistance in their communities. Next step is now the rebuilding of homes and churches all severely damaged.
Photo Report as follows; Repacking of relief goods at Makati office: