NACSEARelief Meeting with task force "earthquake" was held in Tagum, Saturday 30 November 2019
A team of 7 under leadership of Ramil Saomines and Antero Patilla undertook 3 trips to affected areas in North Cotabato and Davao del Sur on 6th and 7th November. Food packages were distributed to some 200 families. This is just our action by BoT member Freddie Nuyad and does not include the reach out we undertook from Cagayan de Oro with IKP. A drop into the ocean.
Our team was apprehended by military and ordered to surrender all food deliveries to official stock yards. It was negotiated however that we are reaching out to a certain target group (church) and were given passage.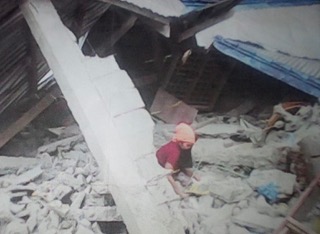 The situation is still very critical. Problem is the Military has cordoned off the whole area and there is no access due to apparent high risks of earth movements. Thousands of people have been evacuated with no real place to go. We learned that authorities are looking for safe resettlement ground but there is nothing known yet where that could be.
There is great concern about the area of the mountains in Abad Santos from where no news were received. Very remote regions. Freddie Nuyad and Mercurio Nuyad will try to get infos through the network of local pastors. Being a School Principal he will also try to cooperate with the network of the local school teachers.
We are planing further food deliveries but then eventually the main task coming towards us are rehabilitation and rebuilding. It is just too early to start with such a project since relocation plans are not finalized yet by the authorities.
As of November 24th, National Disaster Risk Reduction and Management Council (NDRRMC) said 23 people died, 563 people were injured and 11 people have been missing in the October quakes. It is also reported that around 320,000 people have been affected and more than 180,000 people have been displaced.
Urs Hebeisen
president@nacsearelief.org