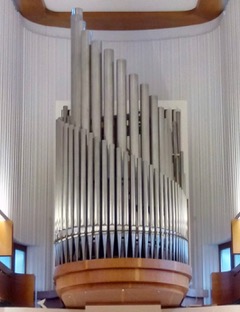 Juerg Brunner, well known Swiss organist and composer, expert of liturgical- and church music played the newly renovated pipe organ at the New Apostolic Church in Basel/Switzerland on 6th November 2022.
The church auditorium was filled with the majestic sound of this master piece of organ and impressed 125 visitors in attendance. 
Generous donations were received in favour of the scholarship fund at NACSEARelief in the Philippines. 
On behalf of our President Urs Hebeisen who married his wife Lucienne in this church back in 1977 we send our appreciation and best wishes to the Basel congregation. May the queen of musical instruments continue to  bring joy to many for the glory of the Almighty.